Pour ce 6-ème numéro, nous allons évoquer un tube d'un chanteur qui n'était pas noir, qui aimait le jazz et la java, qui avait une fille qui s'appelait Cécile et qui parfois était sous … ton balcon.
You can find a summary in English below.
La pochette du 45T de Claude Nougaro :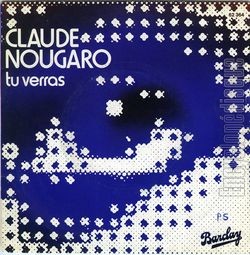 La pochette de la version de Chico Buarque :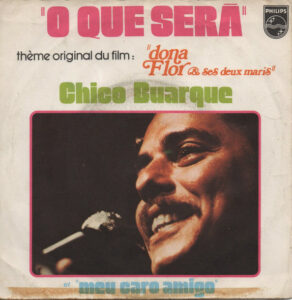 For my Friends who don't speak French a summary in English. I hope it can help to follow what I say :
For this 6th episode, we are going to talk about a hit from a singer who was not black, who liked jazz and java, who had a daughter called Cécile and who was sometimes under … your balcony.
– Sample of the cover
Claude Nougaro was already very well known when he released Tu verras (« You will see ») in 1978, which was immediately a hit. The song begins with the plea of ​​a man who admits his mistakes
Je ferai plus le con/j'apprendrai ma leçon (« I won't play the fool anymore/ I'll learn my lesson ») a little bit like Je suis sous (another famous song of Nougaro). But this time, the tone is not for humor but to the passion that Nougaro supports with a torrid ardor:
« Je crèverai le sommier, tu verras, tu verras/
En t'inventant l'amour dans le cœur de mes bras/
Jusqu'au matin du monde ».
« I will burst the box spring, you will see, you will see /
By inventing love for you in the heart of my arms /
Until the morning of the world ".
Curiously, after that succes, the singer from Toulouse would have to wait ten years before returning to glory with Nougayork.
The inspiration for the song Tu verras does not come from New York but from Brazil.
Sample of the original version
Tu verras is a French adaptation of O Que Será? (To Flor da Pele), original song by Chico Buarque composed for the film Dona Flor and her two husbands by Bruno Barreto: the story of a young widow who remarries and whose first husband returns from the dead to his widow.
Both lyrics speak of passion, but if the end of the French text is full of hope:
« Tu verras notre enfant étoilé de sueur
S'endormir gentiment à l'ombre de ses sœurs »
« You will see our starry child
To fall asleep gently in the shade of his sisters "
the original lyrics are pessimistic from the start to the end:
The second verse saying roughly:
« From what the most crazy poets sing
From what the drunken prophets swear
Of those who are in the pilgrimage of the disabled
Of those who are in the fancy of the unfortunate
Of those who live the daily life of whores
In the plans of the bandits, the disinherited
In every sense of the word, what will it be? « 
And the conclusion in the form of a dark apotheosis:
« And even the Eternal Father / who has never been there
Watching this hell, / will bless
What has no rule / never will
What has no shame / never will be "
As the French singer Renaud sang, « you must be very creative to find a funny end! »