Pour ce second numéro, nous allons évoquer un titre de 1962.
You can find a summary in English below.
Pour ceux qui sont pressés un lien vers le scopitone tourné par Claude Lelouch (contrairement à mes souvenirs, il n'est pas en noir et blanc !) :
https://vimeo.com/247580981
La pochette du 45T de Johnny Halliday :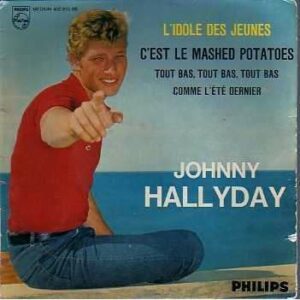 La version de Ricky Nelson :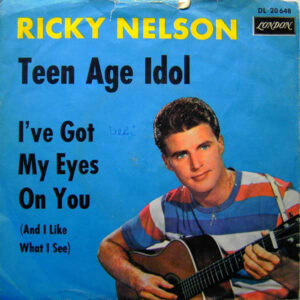 For my Friends who don't speak French a summary in English. I hope it can help to follow what I say.
The second issue is about this 1962 title.
Sample from the cover (L'idole des jeunes by Johnny Hallyday)
L'idole des jeunes (1962) is probably the greatest success of Johnny Hallyday's beginnings. The nickname will stay with him for a long time. Almost 20 years later, In 1984, he sang an acoustic version of this song in a report for the TV show « Les enfants du Rock » filmed in Nashville. The success of the title is supported by a nice scopitone (the ancestor of video clips) shot by Claude Lelouch. The future filmmaker says he learned from filming scopitones, "the power of music for cinema". He had not forgotten the lesson four years later in 1966 when he directed the film « un homme et une femme » (the song of the movie is very famous).
Many of the successes of the « Yéyés » (it is the name French people give in the 60's to this generation of singers) in general and of the debuts of Jean-Philippe Smet (the real name of Johnny) in particular are adaptations of American songs, « L'idole des jeunes » like his first hit « Souvenirs, souvenirs » (cover of Souvenirs from Barbara Evans) are no exception.
Among Johnny's later hits, you might think that « Noir c'est noir » is a cover (Black is black sung by Los Bravos), but did you know that « Mon p'tit loup » (Betty Lou's Gettin' Out Tonight Bob Seger ) or « Le bon vieux temps du Rock'n'Roll » (another Bob Seger cover) are covers too?
Back to the original song : Teen Age Idol
The original Teen Age Idol sung by Ricky Nelson is very well known in the USA although proportionally it is not the equivalent of Johnny's version in France.
Eric Hilliard (known as Ricky) Nelson is born in 1940. His parents host a popular first radio show which was then televised from 1952. At sixteen, he is a fan of Carl Perkins while his girl friend is a fan of Elvis Presley. To impress her, he tells her that he too is going to record a single. Which actually led him to release his first EP in 1957. Very popular and respected by musicians, he had around thirty hits between 57 and 62, including Teenage Idol wrote especially for him.
The adaptation made for Johnny respects both the text and the orchestration of the original song.
To my knowledge, there have been, unfortunately, no duets or meeting between Johnny and Ricky. On the other hand Régine, the queen of Parisian nights, would have introduced Johnny to Elvis Presley. But the King would have shown no interest in the French rocker. « Le taulier » (another nickname of Johnny, could be something like « the boss ») would have concluded: « we should never meet our idols ».