Pour ce 18-ème épisode, nous allons évoquer un tube de la chanteuse grecque préférée des français.
La pochette du 45T de Nana Mouskouri :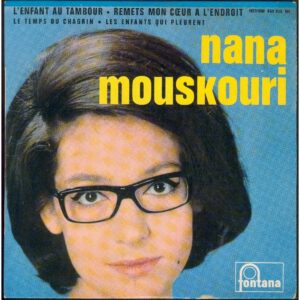 La pochette d'un album de Trapp Family Singers :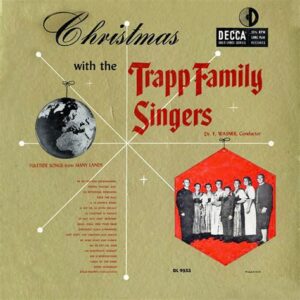 On peut écouter la version des Barclay ici.
On peut voir la chorale d'Harry Simeone en décembre 1959 dans le Ed Sullivan Show ici.
For my Friends who don't speak French a summary in English. I hope it can help to follow what I say
For this 18th episode, we are going to evoke a hit by the french's favorite Greek singer.
• Sample of the cover Nana Mouskoury
In France, the best-known version of the Little Drummer boy is Nana Mouskoury's one.
But the French version was created 5 years earlier, in 1960, by a forgotten vocal group: Les Barclay. They placed the song in 4th place on their EP which, as we know, is not the best way to access posterity (to be well known). Note that the band is managed by Christiane Legrand, Michel's sister. You may not know Christiane, but you have probably heard her voice in many films, for example in the movie Donkey Skin she subs Delphine Seyrig for vocals.
• Sample of the Barclay version https://www.bide-et-musique.com/song/19253.html
The French lyrics is due to Georges Coulonges who erased its Christian origins. The French version tells the story of a boy in search of his father who died in the war. He offers his drum for his father to come back. The angels in heaven seem to grant him this wish, but the child wakes up to find that it was just a dream. The French version has a sad touch that does not appear in the original Christmas carol.
• Sample of the original version www.youtube.com/watch?v=8N1uM96Xd74
Little drummer boy was composed in 1941 from a traditional Czech source. It was recorded for the first time in 1951 by the Trapp Family Singers, an Austrian family exiled in the USA. You know the history of the Trapp family if you've seen the movie The sound of music.
Note that the title is then called Carol of the drum. For French people I have to explain that yes, Carol is a name but a carol is a Christmas song.
Harry Simeone changed the title to The Little Drummer Boy and recorded it with a choir under that title in 1958 for an album called Sing We Now of Christmas. It is from this version (and this title) that the song becomes a colossal success. Probably making the fortune of Harry Simeone who managed to keep some of the rights. For a Christmas carol, it's not very glorius.
Let's listen to a sample of this version anyway.
• Sample of Harry Simeone's version www.youtube.com/watch?v=oR_Rb9A7ImM
December 1959 Ed Sullivan Show version www.youtube.com/watch?v=gpvXQjnMI48
In addition of the new title and the crucial contribution of the use of a bell, we have to recognize that all future versions will be inspired by this orchestration.
Regarding the lyrics, in the original version, the young boy is invited by the Three Kings to see the Newborn Christ. Having no present for the infant Jesus, he plays his drum for him with the approval of the Virgin Mary. In his feeder, the baby smiles at him. It's much more cheerful than the French version!
The secondhandsongs.com site lists more than 1000 versions (and there are probably some missing) !!! Including Johnny Cash, Sinatra, Bowie, … Boney M, …. and Joan Jett! Joan Jett's version appeared on her famous 1981 album I Love Rock'n'roll and was used in the 1983 film Class.
Finally this little drummer boy, will have taken us three times to the cinema. It's Christmas, isn't it?