Pour ce 17-ème épisode, nous allons évoquer un des premiers tubes de ce qu'on appellera plus tard la « world music ».
La pochette du 45T de Lizzy Mercier Descloux (1984) :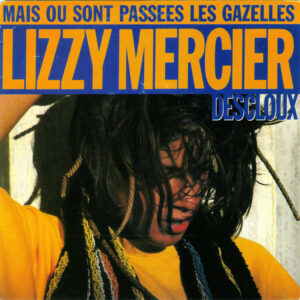 La version de Kazet de Mahlathini & Mahotella Queens sortie en 1988 chez Celluloid :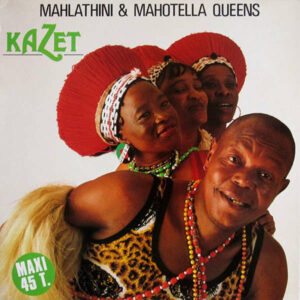 For my Friends who don't speak French a summary in English. I hope it can help to follow what I say :
For this 17th episode, we are going to talk about one of the first hits of what will later be called « world music ».
• Sample of the cover Mais où sont passées les gazelles? (But where have the gazelles gone?) https://youtu.be/G0mVxwhw00k
Mais où sont passées les gazelles is the only hit by Lizzy Mercier Descloux whose name the general public has probably not remembered. Nevertheless, she is a prominent figure for many musicians, mainly from the New York scene of the late 70's. Richard Hell dedicated the song Another World to her in his legendary 1977 album Blank Generation and faithfully paid tribute to her in an article on his blog when Lizzy disappeared in 2004. In 2015, during a concert in Paris, the godmother of the punk Patti Smith cites her among her references with Hendrix, Morrison, Joplin, Strummer, Cobain…
After a childhood in Lyon, Elisabeth (Lizzy) went to Paris to study Fine Arts in 1974. She settled in the halles district. She met there Michel Esteban who owns a rock record and merchandising store. In a podcast devoted to covers, it's hard not to point out that this rallying point of all punk youth is called Harry Cover (it's a pun because it sounds in French like Haricot verts (greens beans)) !
With Esteban, Lizzy settled in New York. In 1978, he created the ZE Records label which will publish Kid Creole & the Coconuts, Alan Vega… And the first two albums of Lizzy Mercier Descloux.
In 1983 they toured Africa and recorded the album Zulu Rock inspired by South African music which was little known at this time due to apartheid (the world did not know Johnny Clegg until 1988). The hit Mais où sont passées les gazelles is inspired by this song:
This is an adaptation of a track by Mahlathini & Mahotella Queens. The singer of the group is Simon Mahlathini known as the Lion of Soweto because his deep and powerful voice can evoke the roars of the king of the animals. He had been known in South Africa since the 1950s but starting 1964, he was sometimes accompanied by the Mahotella Queens, a « girl-group » of 3 singers and dancers.
It seems that Kazet (the title of the song) is the name of a black neighborhood destroyed to house white people and that the lyrics say that « by a collective awareness, we can succeed in changing things ».
I don't know if a version was recorded before Lizzy's version because I only found a re-recording for the French label Celluloid from 1986 so after the French one. Indeed, after Lizzy's, other albums, such as Paul Simon's Graceland, have brought South African music to international renown and allowed native musicians a new career. Something rare enough to be underlined, the composer of the song, Obed Ngomeni is credited on the record of Lizzy Mercier Descloux and the rights have been paid, but according to Christian Lebrun (a famous French rock critic) in the magazine Best the royalties would not have reached the musicians. As often unfortunately for black South African musicians, the moral of this story is ultimately « Where did the money go? »