Dans ce 16-ème numéro, nous irons de la Galilée jusqu'en Écosse !
La pochette du 45T de Sheila :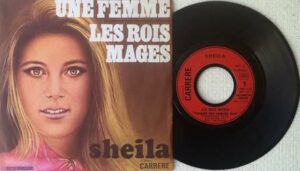 La pochette de la version originale par Middle of the road :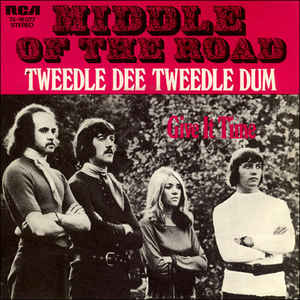 For my Friends who don't speak French a summary in English. I hope it can help to follow what I say :
In this 16th épisode, we will go from Galilee to Scotland!
Sample of the cover Les Rois Mages (Biblical Magi, Three Kings) by Sheila
Sung by Sheila, Les Rois mages was number 1 in France in 1971. Her popularity was somewhat declining at the end of the 60's and this song relaunched the career of this « petite fille de français moyen » (« Little girl of average French », a another Sheila's song).
Regarding Melchior, Gaspard and Balthazar, grumpy people will point out that there are no Three Kings in the Bible. Only the Gospel of Saint Matthew evokes « wise men of the East », it does not call them magi or kings and does not give either their number (nor of course their names), does not specify in any way the star followed. In addition it is unlikely that a journey from Persia to Bethlehem passes through the Galilee. It does not matter because this lyrics by Claude Carrère (French composer, song writer and mostly producer) does not really speak of the nativity but rather of the happiness of a woman to share her life with the man she loves. But the lyrics is multiplying the religious images (« my biblical light ») and we can wonder if the question is about love or religious devotion.
Let's see what the original version is about.
Sample of the original version from the Tremeloes https://youtu.be/F9ARcLTcqoA
Tweedle Dee, Tweedle Dum is the second single from the Scottish group Middle of the Road. In the United Kingdom, the group was successful in 1971 and 1972, but its notoriety continued in Germany until 1974.
The lyrics sung by Middle of the road has nothing to do with the Three Kings, the inspiration is rather to be sought on the side of Lewis Caroll, since Tweedledum and Tweedledee are the names of two characters from Alice in Wonderland (1875).
Even if the expression Tweedle-dum and Tweedle-dee had already been used before Lewis Caroll, especially during controversies between the composers Handel and Bonocini at the beginning of the 18th century, it is (according to the Encyclopedia Britanica) in the 19th century that the phrase had come to indicate people or situations that were virtually interchangeable.
The text of Middle of the road does not refer to Alice in wonderland but evokes a battle between two clans : Mc Dougal's and McGregor's. I believe the lyrics underlines the absurdity of certain rivalries:
« If you knew the reason for their fightin '
You would never understand »
Ultimately this song wants to bring a message of peace.
A bit like the Three Kings, isn't it?