Pour ce 12ème numéro, nous allons évoquer une fille qui alla de nyc à la Californie avant de venir faire « Be-bop » dans la tête et le coeur des français en 1975.
You can find a summary in English below.
La pochette du 45T de Martin Circus :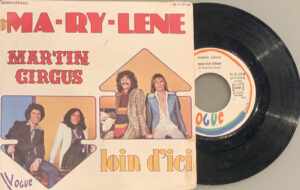 La pochette de la version originale (The regents) :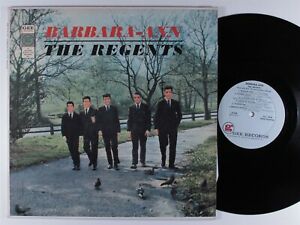 La pochette de la versions des Beach Boys :
Vidéo des publicités pour un fromage à emporter.
La version des Minions.
For my Friends who don't speak French a summary in English. I hope it can help to follow what I say
For this 12th episode, we are going to talk about a girl who went from NYC to California before coming to "Be-bop" in the minds and hearts of the French in 1975.
Sample of the cover (Martin Circus) : https://youtu.be/fyHHKBZbX_Q
Most French people know Marylène from Martin Circus (1975). At worst, it evokes for them the advertisements from 1983 for a cheese sold in a red shell (link above). For the youngest, it evokes the Banana song of the Minions in Despicable Me 2 in 2O15.
Sample of Banana song by the minions www.youtube.com/watch?v=-9EHdp1ynUU
Let us quickly come back to Gérard Blanc's group.
Martin Circus fans who bought the LP know that Marylène is a cover since the album is called No. 1 USA – Hits of the sixties. It is one of the greatest hits of Martin Circus and the four girl friends who accompany them with their choreography will be called Les Marylènes. Unable to hide this essential information from you any longer, I will give you their first names: Graziella, Pascale, Corinne and Françoise.
Concerning the origin of this song, amateurs of American music will think of the Beach Boys who made Barbara Ann a hit in 1965. On the websites talking about music used in advertisements, we also always find the reference to the Beach Boys.
Sample of Beach boys' version: https://youtu.be/Z2kOexjzY3I
The French adaptation is quite close to the American text
« I tried Betty Sue / I tried Betty Lou / I tried Mary Lou
But I knew it wouldn't be / Barbara Ann, take my hand »
Becoming under the pen of Gérard Blanc:
« J'aime Caroline/J'aime Isabelle/J'aime Géraldine
(I love Caroline / I love Isabelle / I love Geraldine)
Mais tu es la plus belle/Oh Marylène ma ma »
(But you are the most beautiful / Oh Marylène ma ma)
But the Californian group is not the creator of the song. On the contrary, you have to go to the east coast of the United States:
Sample of the original version https://youtu.be/jGrTAkUIJi0
The original is by a New York doo-wop group the Regents who recorded it twice. First a demo version in 1958, then as a single in 1961 when the Bronx band was signed to a record label. They reached No. 13 on the Billboard. Four years later the surf version of the Beach Boys climbed to second place in the same chart.
Another song that proves that in the Bronx, in California or in France, you always need « une reine pour aller danser » (a queen to go dancing).