Pour ce premier numéro, nous allons évoquer une chanson interprétée par la chanteuse française probablement la plus connue à l'étranger notamment in the us.


Episode 1 : l'homme à la moto chanté par Edith Piaf
You can find a summary in English below.
Pour ceux qui seraient pressés, voici un lien vers la version de Piaf :
https://www.youtube.com/watch?v=K96Wt3N9Yq8
Et la pochette du disque :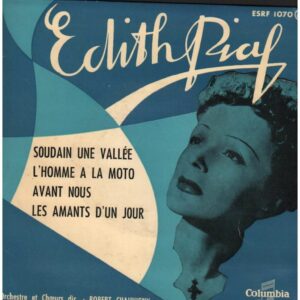 Et la version originale des Cheers (1955) signée Jerry Leiber and Mike Stoller :
https://www.youtube.com/watch?v=qTdVaU5O9x8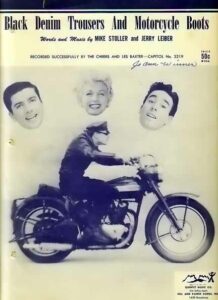 Pour mes amis anglophones une version écrite en anglais (For my Friends who don't speak French a summary in English. I hope it can help to follow what I say ) :
Black Denim Trousers and Motorcycles Boots / L'homme à la moto
Music : « Jingle » (Ils ont changé ma Chanson by Arno/ idem by Dalida/Look what they done to my song by Melanie)
Intro : Welcome aboard this podcast devoted to covers, adaptations, re-creations … all those versions of a song whose success can sometimes eclipse the original version. Sit down in your chair nicely, do whatever you want with your belt, we'll get started.
For this first issue, we will be talking about a song by the French singer who is probably the best known abroad, especially IN THE US.
Music : A small sample of the song (L'homme à la moto by Edith Piaf)
Edith Piaf of course!
L'Homme à la moto was released in 1956 and it was the big hit of the summer.
Even if it isn't one of her most popular song nowadays like La vie en Rose or L'hymne à l'amour (the Hymn to love), it was one of her biggest sales during the singer's lifetime.
It must be said that the text fits perfectly its time. Jean Dréjac, who wrote the French lyrics, will also say that he was inspired both by the film L'Équipée sauvage with Marlon Brando, as well as by the young « blousons noirs » (« black jackets ») who appeared in France at the end of the fifties.
Hmm, when we read the credits on the vinyls of the time, we say to ourselves that he actually adapted this American song :
Music : Sample of the original version
The original version called Black Denim Trousers and Motorcycle Boots is the second success in the USA of The Cheers ,a vocal group as there were still many in America of the 50's.
The original text and its French adaptation are very close since from the original version the black leather jacket has an eagle on its back and the "girlfriend" is called Mary Lou.
The American orchestration sounds more western, which is not surprising since rock'n'roll has also been nourished by country music. One cannot help but draw the comparison between the bad reputation of the Cowboys (originally the very poorly paid farm boys) and that of the new bikers idols of American teenagers. One can also think that the popularity of the title was reinforced by the accidental death of James Dean on September 30, 1955, barely a week after the release of the disc.
Black Denim Trousers and Motorcycle Boots was written by songwriter duo Jerry Leiber and Mike Stoller. This is their first real hit, even if they have already written « Hound dog » in 1952 which had a small success sung by Big Mama Thornton. It is not yet the world hit that Elvis Presley made out of it in 1956.
We will talk about Leiber and Stoller in other episodes of this podcast. In the meantime, here is the intro of another of their world famous title, which you will recognize immediately:
– Music : Sample of Jailhouse Rock by Elvis Presley
It remains to be known how Piaf came to know this song. You should know that after the Second World War, Piaf forged many links with the USA. She toured there in 1946 with the Compagnons de la chanson. It was in October 1947 that she had her great love affair with Marcel Cerdan in New York. As we know, the boxer died on October 28, 1949 in an accident on the Paris-New York flight he had taken to reach Piaf …
In 1952, Piaf married in New York french singer Jacques Pills, recently divorced from singer Lucienne Boyer, in a wedding dress chosen by Marlène Dietrich.
She also triumphed at Carnegie Hall in New York in 1956 and in 1957, "Live" albums bear witness to this.
All this to say that she has probably heard the title of Cheers on American soil herself.
Outro : Before leaving you in the company of the original version, I am looking forward to offer you a new issue of « Ils Ont Repris Ma Chanson ». Until then, don't forget to take a lot of fun « between your ears ».
Music : The whole song « Black Denim Trousers and Motorcycle Boots »